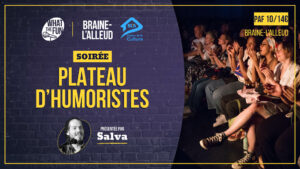 Soirée d'humour STAND UP COMEDY présentée par Salva à Braine-l'Alleud
La Maison de la Culture de Braine-l'Alleud accueille le What The Fun pour une soirée d'humour tous les 1ers samedis du mois à la Salle de l'Académie !
Salva vous invite tous les 1ers samedi du mois à assister à une soirée « Plateau d'humoriste ». Chaque soir, vous découvrirez 5 talents de la jeune scène de l'humour belge qui se succéderont pour vous faire rire. Un spectacle multiple, aux univers variés et riche en découvertes où se croisent professionnels de l'humour et stars en devenir.
Le What The Fun c'est la plateforme du Stand Up Comedy en Belgique. Les humoristes de demain se succèdent sur une scène à l'ambiance décontractée pour vous faire rire dans une variété d'humour déconcertante !
Rendez-vous à l'Académie de Musique de Braine-l'Alleud.
Ouverture de la salle à 19h30
Début du spectacle à 20h00
What The Fun à Braine-l'Alleud