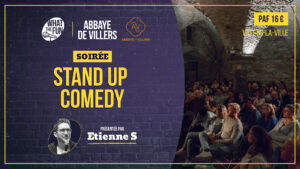 L'Abbaye de Villers accueille le What The Fun pour une soirée d'humour exceptionnelle !
Venez assister des soirées « Plateau d'humoriste » présentée par Etienne S pendant laquelle vous découvrirez chaque soir 6 talents de la jeune scène de l'humour belge qui se succéderont pour vous faire rire. Un spectacle multiple, aux univers variés et riche en découvertes. L'occasion de faire résonner les caves du 17e siècle de vos rires !
RESERVATION OBLIGATOIRE
RESTAURATION DÉS 18H00
DÉBUT DU SPECTACLE À 20:00
OÙ : Rendez-vous dans la salle Romane, juste à côté du nouveau Bistro de l'Abbaye de Villers qui vous accueillera.
Le Bistro vous accueille dès 18h pour prendre déjà quelques verres et manger avant le spectacle. Possibilités de boire et manger pendant le spectacle également (petite restauration uniquement) !
Le What The Fun c'est la plateforme montante du Stand Up Comedy. Les humoristes de demain se succèdent sur une scène à l'ambiance décontractée pour vous faire rire dans une variété d'humour déconcertante !
What The Fun à l'Abbaye de Villers