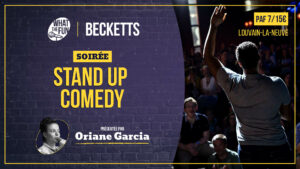 Soirée d'humour STAND UP COMEDY présentée par Oriane Garcia à Louvain-la-Neuve !
Le What The Fun est de retour à Louvain-la-Neuve et vous donne rendez-vous à l'étage du Beckett's ! Au programme, 6 humoristes à chaque fois différents parmi une sélection des talents émergents de l'humour belge. Viens donc assister à une soirée spectacle où s'enchaînent les humoristes de demain sur la grand place de Louvain-la-Neuve avec un tarif promotionnel pour les étudiants.
OUVERTURE DES PORTES : 19h30
DÉBUT DU SPECTACLE : 20h30
PAS DE RESERVATION
Premier arrivé, premier servi !
PRIX (paiement CASH sur place)
– Adulte 15€
– Réduit* 7€
*Tarif pour étudiant de -26ans sur présentation d'une carte étudiante à jour.
Le What The Fun c'est la plateforme montante du Stand Up Comedy en Belgique. Les humoristes de demain se succèdent sur une scène à l'ambiance décontractée pour vous faire rire dans une variété d'humour déconcertante !
Venez découvrir le temps d'une soirée les nouveaux talents de l'humour belge.
What The Fun à Louvain-la-Neuve